Providing Premier Finger-Activation Trigger Technology
More Than 10 Years of Experience
Your Trusted Shop for Quality Firearm Accessories
TRIGGERPOINT TECHNOLOGY INC is a trusted innovator of firearm accessories. We provide fully integrated fire control systems for a wide range of firearms, including the AR15, M16, M4 and Glock 17, 19, 22, and 23.
Serving Clients Nationwide
Our Tactical Rail Accessory Management System (TRAMS) BASIC is a button-activated fire control system that allows for Trigger Finger Activation of weapon attachments with only a magazine button.
Trigger Finger Push-On and Push-Off activation is quicker and easier than squeeze switches that need non-shooting hand activation. In the resting position, the magazine button is always beneath the trigger finger. Instant activation is straightforward, intuitive, and always ready. Tactical teams may use a simple thumb wheel to go from Covert IR illuminators to Overt visible illuminators. No more re-tasking the PEQ15, ATPIAL, or DBAL-A3, turning small knobs with gloved hands.
This gun accessory is designed for both civilian and law enforcement use. TRAMS Basic is also ITAR Exempt.
TRAMS Advanced, a fully integrated fire control system, is activated by a magazine button and a trigger touch.
Hostage rescue efforts involving an active shooter necessitate the use of the most modern military tactics. The Paris Concert Hostage Crisis served as a wake-up call for law enforcement and special forces personnel worldwide.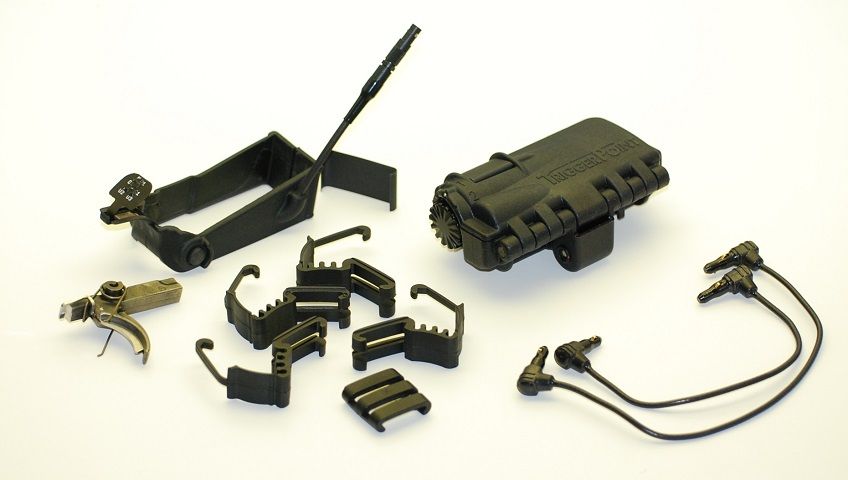 Tier One operator hostage rescue procedures now involve breaching with the safety turned off and the trigger finger on the trigger.
The combination of Trigger Touch Activation with targeting illuminators gives seamless intuitive capability for the world's fastest time-measured lethal response.
CQB studies show a 1/3 to 1/2 second advantage over conventional squeeze switch activation strategies, all else being equal. Your life depends on having a 1/3 second edge during CQB. Snipers that use button and trigger switch-controlled illumination benefit from increased IR target illumination capabilities and reduced electronic signature while utilizing the only hand they have on their weapon without breaking position.
TRAMS Advanced is normally only available to military and government customers. However, we sometimes allow private citizens to purchase on a case-by-case basis.
Please be advised that TRAMS Advanced is ITAR restricted.
Contact us
today for more information on our innovative TRAMS gun accessories. You may also browse through our
wide selection of products
and see which you will add to your arsenal.